The streets of New Zealand have become silent as we've all complied with the lockdown and settled into the new reality of becoming a country full of distributed workforces. At Olympic, we've noticed a big difference between those clients who already have the relevant digital systems in place and those who are scrambling to get adequate systems and processes implemented.
For many small and some large organisations, they might have some solutions in place that can be utilised remotely, such as Microsoft Office, or the Google Suite, or online communications software like; Slack etc. Or they have the ability to login to their bank accounts. As consumers and small businesses, there are a variety of good online software solutions that we access in our daily lives.
But what happens when your business is larger and more complex, and you need to access and use your financial systems, or your sales systems? How do these businesses process and pay invoices as a distributed team? How are they getting these approvals done? What's the process staff are going through to submit and approve purchases? On the sales side; how are staff receiving and processing sales orders? Is it easy for customers to get their orders to your team?
Olympic Software has long been a pioneer in creating online software solutions to help businesses get digital and connected, resulting in digital transformation. With the emerging situation, the digital revolution is now a necessity more than an objective. It's what businesses need to stay competitive in this changing environment.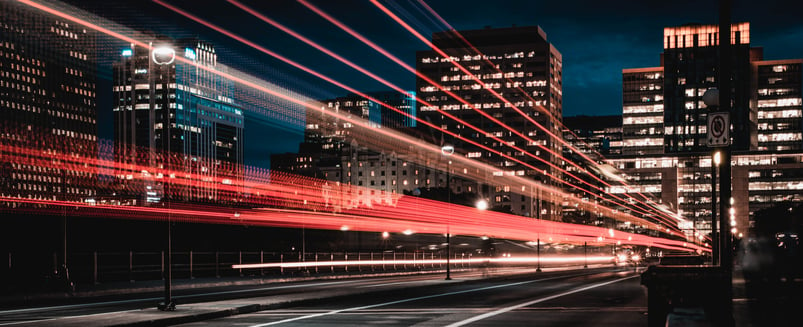 The COVID-19 Business Implication: accelerate digital
The coronavirus pandemic is the convergence of preparation and opportunity as many workers maintain social distance and work online. To stay competitive and globally agile, business will continue to be more dispersed and more remote after the pandemic. But further than this, digital transformation is an opportunity to discover new ways to operate, not just now, but into the long-term.
This unexpected catalyst has resulted in a growing trend of organisations looking to transform how they work in this new digital environment. They're investing in online platforms and technology and are exploring new paths and technologies to connect staff, customers, suppliers, and other stakeholders.
Expert Observations
Sir Martin Sorrell, executive chairman of UK's S4 Capital, says that the COVID-19 pandemic will push digital transformation to 'move at a significantly faster rate'. People will become more accustomed to using technology and, significantly, 'Businesses that were hesitant to move forward on digital because things were going reasonably well and they didn't really want to disrupt things. That now is out of the window'.
Then there is this forward-looking view from Steve Bates, a global business leader. Bates told CIO that while it is tempting to subordinate digital strategy to focusing on business continuity, the better approach is to actually accelerate business transformation. Do that now to put the business in a better position when the pandemic passes. Says Bates, ''You have to avoid the tendency to slash and burn your transformation and revert back to your traditional working model, which is human nature'.
The Chinese Experience
A March 2020 report by IDC highlights a survey of China's CXOs. The outbreak of COVID-19 showcased how digital transformation was a double-edged sword of challenge and opportunity. Not surprisingly, the top negative impacts of the epidemic on Chinese businesses involved inability to contact customers, a decline in sales performance, and the inability to resume production.
The top positive impacts were driven by necessity. Improved corporate ability in handling long-distances and collaboration online, a new appreciation by everyone of IT's value, and a refinement of online marketing and business development topped the list of positives.
The Vice President and Chief Analyst of IDC China, Mr. Wu Lianfeng reports that China's experience with the COVID-19 epidemic brought digital transformation front and centre. Digital transformation has at its core large-scale accelerated innovation. Business leaders, according to the IDC VP, should view the COVID-19 challenge as an opportunity to turn crisis into business advantage by:
accelerating the development of new digital transformation strategies
supporting enterprises to seek points of business breakthroughs
achieving sustainable corporate development.
The Common Thread is Digital Transformation
By the time this crisis has passed, many workers will have become accustomed to not having to dress up for work, skipping crowded morning and afternoon traffic and working efficiently at home.
Regulation and obstacles notwithstanding, the thread moving through our future is digital. In business, going digital has morphed from being an objective to becoming an absolute necessity and the current crisis perfectly illustrates this. Saving trees is not the key goal (although it is a very good side effect); it's about surviving in a digital environment where innovation and flexibility are the virtual bricks and mortar of business growth.
Documents drive commerce
The large number of staff forced to work from their individual homes, for the duration of the pandemic, and likely for repeating periods of time until it's confirmed the crisis is over will accelerate digital transformation of businesses. More than ever, what's needed is an even faster way to communicate, collaborate, and sell.
The bottom line being that with organisations rapidly transforming how they operate in this new digital environment, digital platforms for selling to B2C and B2B customers have become critical, and one-size-fits-all solutions don't necessarily suit every business model. What is needed is technology with the flexibility to adapt to the needs of individual customers.
What has not changed in all this, however, is the role of formal business documents. They drive commerce. Those orders, invoices, credit notes, remittances, etc., are the new denizens of the web. When it comes to sharing these documents that drive business transactions – a digital revolution is the new norm.

Levelling the playing field with DX2
As barriers fall, digital transformation will continue down the road to dominating business processes and transactions. Where shrink-wrapped, one-size-fits-all business applications once dominated the market, online digital business platforms have made the digital future, flexible, affordable, and agile.
Olympic Software's DX2 platform has democratised the business document transaction arena. What does democratisation mean in this instance? DX2 brings all the benefits of electronic data interchange (EDI) usually only accessible to the largest organisations because of complexity and cost, to medium-sized businesses as well. It's the perfect solution to transact and exchange business documents with all trading partners, securely and in real-time.
Everyone involved in the supply chain, can participate and get involved with nothing more than an internet connection.
Olympic's DX2 is a single tool to send or receive digital documents and communicate about those documents. It works like an EDI solution but has much more functionality especially in terms of ease of deployment, and the ability to track and collaborate on documents.
With businesses in NZ spread across the country (think of disparate farming locations), DX2's shared digital document exchange platform is a great way to transact and process documents and messages instantaneously. DX2 offers the opportunity for radical transformation of your (very manual) buying and selling processes - all the way from sending or receiving sales orders and invoices, to getting all the necessary approvals, and communicating about these business documents (also on the platform).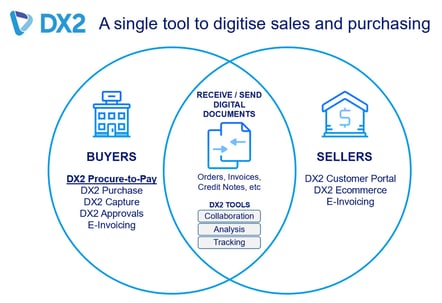 This isn't something futuristic, it's something New Zealand businesses like Dairy Holdings Limited are using today: "With this lockdown in place, if we weren't on DX2, it would have been a complete nightmare. We're all able to work from our individual homes. We just couldn't do without it. "
Accelerate your transformation
Our goal is to continue working as pioneers of 'democratising digital' and make an effective digital workspace accessible to any organisation. Explore the DX2 platform as your private online secure workspace in your next step towards digital transformation in a form and pace that suits your business needs.
If you'd like to know how the DX2 platform can enable your business to accelerate its digital transformation and get flexible, fast - get in touch with us today.