Even before the Covid-19 pandemic took hold and changed the way retail businesses work, eCommerce was growing. According to the 2019 NZ Post eCommerce Review, online sales in New Zealand grew by 16% in 2018, while traditional retail sales saw only a 3% increase.
Since the pandemic what was already a burgeoning industry has almost doubled in sales. Opportunities for retailers in the eCommerce space are seemingly endless, if they're willing to harness technology and use innovation to benefit the seller.

The seller's advantage
There are a small number of sites that dominate very competitive sectors. These are sites either that took an early market position that is hard for rivals to displace, e.g. TradeMe, or they are driven by data to provide a personalised experience for the shopper which also gives the seller an advantage. By using data dynamically, we gain more knowledge of the buyer.

The buyer's advantage
We sometimes view standard eCommerce offerings as 'brochure sites'. They provide an experience convenient for the buyer i.e., they offer an alternative to buying instore. The catalogues, online sales tools and plugins are all the same, and this results in several sellers having a similar look and feel. Because they are developed only to list options for the purchaser, they give the buyer an advantage. They are not personalised, so they have no loyalty from the customer, who will visit a range of online retailers to find their product or price sweet point.

Data is key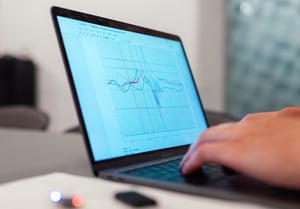 The proliferation of 'brochure'-type websites under the current operating constraints has satisfied the immediate requirements of many businesses to establish a digital presence. These sites permit a rudimentary communication with their customer base and go some way to closing the loop between business owner and customer. However, in the medium to long term it's only the ability of a business to be able to capture, analyse and utilise data from their customers' transactions that will facilitate the ability to drive user personalisation and allow individual customisation. Simultaneously, this gives the seller the ability to 'hyper-target' each individual customer with an offering according to their individual preferences.
When the online channel is critical for your business, you need more than a me-too approach that just offers convenience.
Success is driven by the smart and real-time use of data to provide a personalised, customised and unique experience for every individual shopper. It provides an enhanced experience for the buyer, as well as giving the retailer an advantage by being able to target a specific offering to each customer.
Olympic Software's solutions are among the very few that enable our clients to dominate massive and highly competitive national markets using data. Countdown, Woolworths Australia, Dan Murphy's and others are all the most successful in their national marketplace, to the extent that second place is irrelevant.

How can a dynamic use of data create a personalised user experience?
Consider this:
A woman goes to the mall site but does not log on. We know immediately where she is and therefore what the profile of that community is. Average income, expected education level, work profile, possible age and any other community data we wish to bring in. In addition, we know the time of day, the date and what events are local or national and the weather. As she starts to make choices on the site or simply hovers her mouse over possible links, we continue to build the profile. As soon as she clicks a link all this data is brought to bear to dynamically create the next page for her. No one else will see exactly that page. As she continues her journey our understanding of her builds – and this is how we achieve the seller advantage.

An enterprise framework
Our eCommerce framework scales to accommodate tens of thousands of concurrent users, transacting billions of dollars per year, in fault-tolerant, scalable environments, supporting cloud deployment via Microsoft Azure.
This capability is key because to provide the unique features of the solution, an enormous amount of data is in play at any given time. At no stage can the site hesitate or fail to work. The proven architecture means that national and or international solutions can be provided at any scale.

Trader eCommerce Platform
The whole Covid-19 crisis has been a wake-up call for businesses to go digital but only a few will be successful and actually drive new sales through this medium. Most will have brochure-type websites with heavy graphics that provide the buyer with a dispassionate view as to where to spend their money. By using the Olympic Software Trader eCommerce Platform, sales can be driven by the use of data ensuring the seller advantage.

If you'd like to find out more about our eCommerce solutions and how they can help enhance your customer experience and drive online sales, don't hesitate to get in touch.